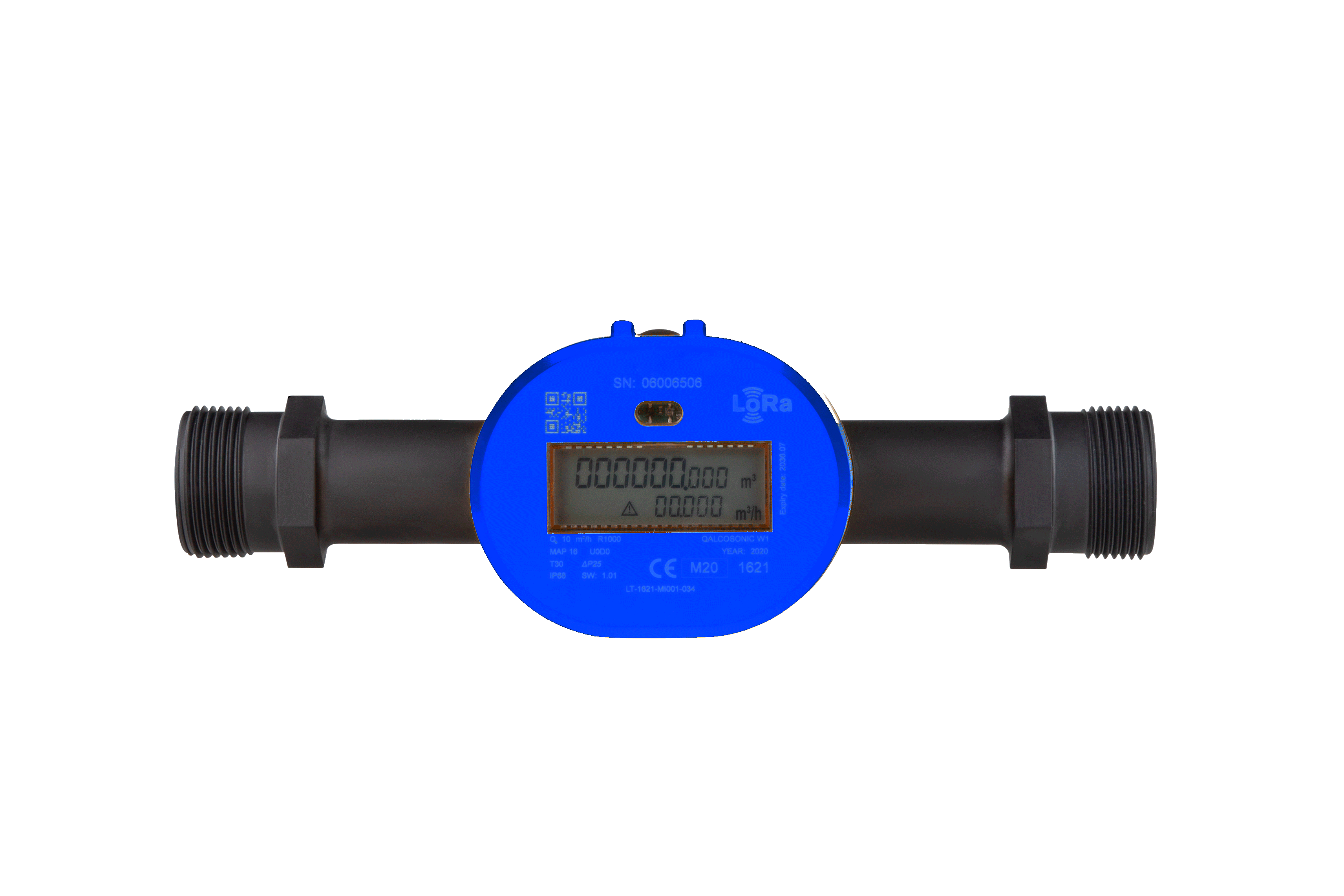 APPLICATION
Ultrasonic water meter M1 Lite is designed for
accurate measurement of water consumption in households, apartment buildings and small commercial premises, where low flow sensitivity is important.
Static flow measurement - no moving parts, no wear and tear
Very high metering accuracy
Eliminates measuring deviations caused by sand, suspended particles or air pockets
Long-term measurement stability and reliability
9 digits, multi-line LCD. Total volume and instantaneous flow rate indication at the same time
TECHNICAL FEATURES
Sensitive in low flows – starting flow as low as 0.01 gpm
Maintenance free device, battery lifetime > 16 years
Installation in any position
No straight piperun needed
No measurement of air
IP68 protection class
Bi-directional flow measurement
Durable composite body
Measurement units: Gal-GPM, cubic feet - cubic feet/h
Strainer and check valve (optional)
Integrated LoRa WAN communication, US902-928 MHz band

Radio will wake up and transmit data after 3 gallons of water has flowed through the unit.
It may take up to 8 hrs to see the first collection of data in portal.kairoswater.io
DATA REGISTRATION
Total volume
Forward volume
Reverse volume
Maximum flow rate value and date
Minimum flow rate value and date
Operating time without an error
Operating time
Error code
Water temperature indication
DATA LOGGER - HISTORY VALUES
Hourly, daily, monthly values of the measured parameters are stored in internal memory.
LCD INDICATIONS AND ALARM
Flow direction indication
Battery level indication
Leakage
Burst
Backflow
Empty pipe
Radio communication
Warning indication
Low temperature warning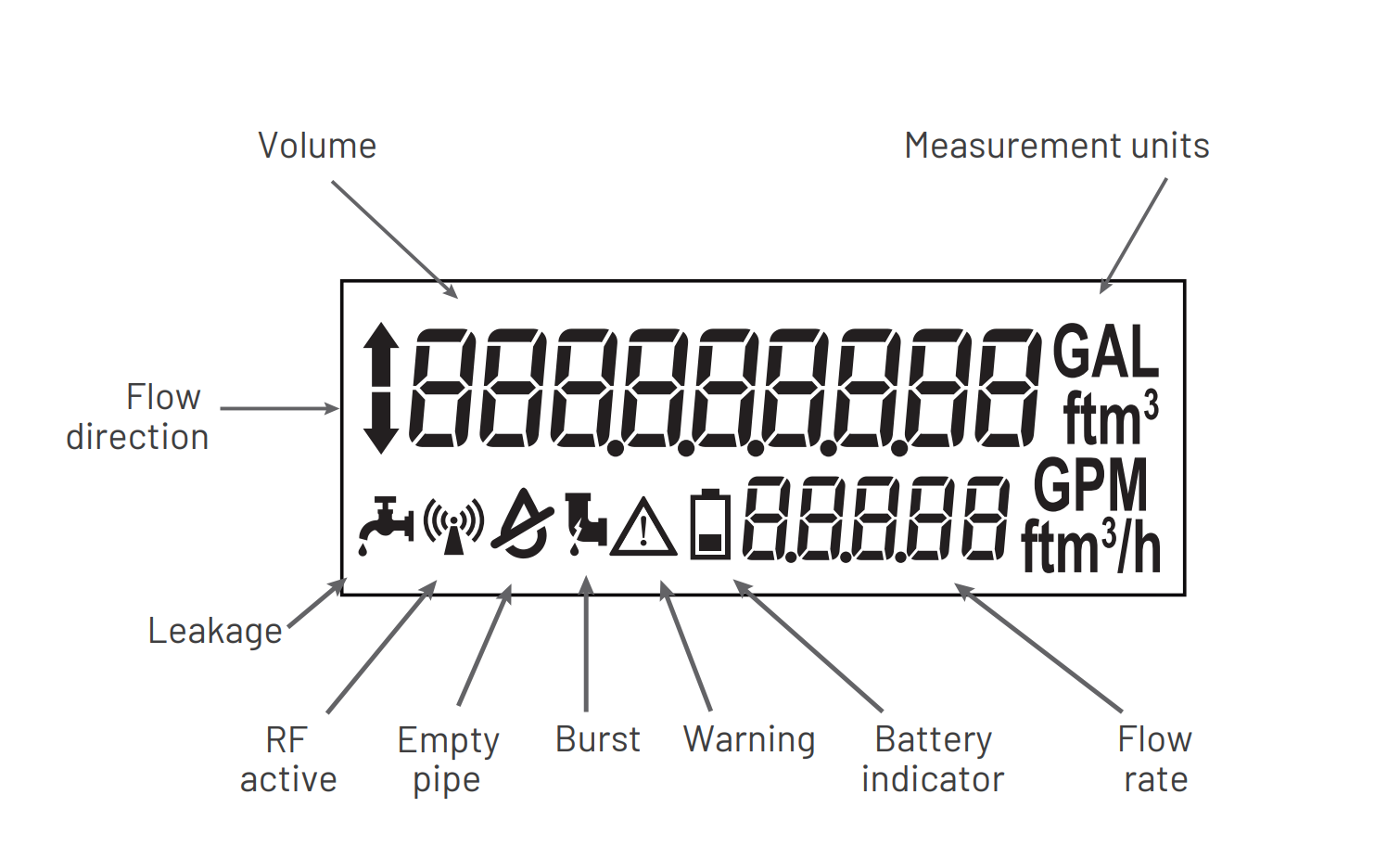 TECHNICAL DATA
Flow sensor sizes
¾" x 7 ½" / 1"x 10 ¾" / 1 ½" x 12 5/8" *
Flow measurement
New meter measurement accuracy is within the following limits:
± 1.5% over the normal flow range
± 3.0% from the extended low flow range to the minimum flow value
Measured Fluid Temperature Range
33°F to 194°F (0.1°C to +90°C)
According to AWWA C715-18, measurement accuracy is maintained
at water temperatures up to 80° F (+27° C)
Storage Temperature (empty flow sensor)
-13 …158° F (– 25…70° C)
Protection class [IP]
IP68
Installation
Indoors or outdoors
Battery
3.6-volt lithium thionyl chloride
SPECIFICATIONS
M1 LITE meter size
¾" short
1"
1 ½"
Size Designation x Lay Length
¾" x 7 ½"
(20 x 190 mm)
1" x 10 ¾"
(25 x 273 mm)
1 ½" x 12 5/8"
(40 x 324 mm)
Operating Range
0.15 … 30 gpm
(0.034 ... 6.8 m³/h)
0.3 … 50 gpm
(0.068 ... 11.4 m³/h)
0.6 ... 100 gpm
(0.163 ... 22.7 m³/h)
Extended Low-Flow Rate
0.044 gpm
(10 l/h)
0.11 gpm
(25 l/h)
0.275 gpm
(62.5 l/h)
Maximum Continuous Operation
(Safe Maximum Operating Capacity)
30 gpm
50 gpm
100 gpm
Pressure Loss
3.6 psi at 15 gpm
(0.25 bar)
2.3 psi at 25 gpm
(0.16 bar)
2.3 psi at 50 gpm
(0.16 bar)
Max Ambient Humidity
0% to 100% condensing
Maximum Operating Pressure of Meter Housing
232 psi (16 bar)
Register Type
Straight reading, permanently sealed two line LCD;
digits are 0.33 in. (8.3 mm) high
Register Display

Consumption (US gallons or cubic feet)
Flow rate (US gallons per minute or cubic feet per hour)
Alarms and error codes (if any)
Flow direction indicator
Radio activity indicator

Register Capacity

999,999,999 gallons
999,999,999 cubic feet

Display Resolution in TEST mode

Gallons: 0.XXX
Cubic feet: 0.XXX
Certifications
NTEP Certification of Conformity #: 22-032 (available in Kairos OneDrive)
Fire rating: Untested