To setup the K1 Gateway to use WiFi, please connect your gateway to power and follow the steps below once the power and WiFi indicator lights are solid.
Look at the bottom of the gateway and find the SSID and password.
The SSID will be hidden and requires a manual configuration to connect:

On Windows 10, select "Hidden Network" from your WiFi Connection options.
On Mac OS, select "Join Other Network" from the WiFi connection options.
Type in the SSID and password as they appear on the label. If prompted, the security type is WPA2.

Once you have connected to the AP-XXXXXX network, open a web browser and visit 192.168.55.1
You will then need to login as:

Username: admin
Password: (same as password on label)


On the left hand side, click on Network --> WAN --> Wireless Extender.
In the Extender mode drop-down menu, select "Enable".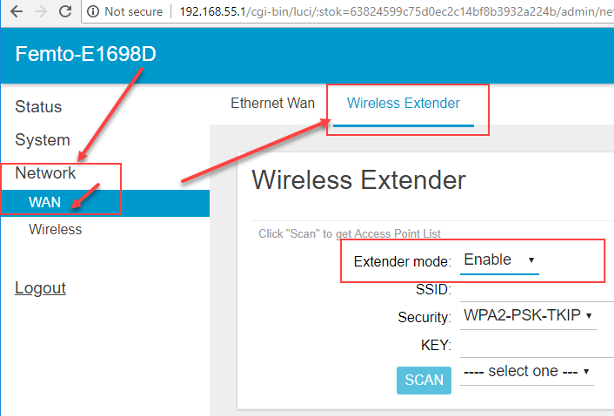 Click the light blue "Scan" button and wait a few seconds.
From the "--- select one ---" drop-down menu pick the WiFi network to which the gateway should connect.

Type in the WiFi Password as the "KEY" and click "Save".


The gateway will restart and any connections to the gateway will be severed until it has booted up again.
Once the gateway has restarted and the LED indicators are all solid, check your account in app.kairoswater.io to be sure the gateway appears online.